ThruLines Thursday
Brown
DNA
In this look at my ThruLinestm results, I'm looking closer at matches, who I have in common with my great-great-grandparents', William Henry & Marion (Sanford) Brown's son, Clifford Gerome Brown. Clifford was born about 1873 in Michigan, he married Louella Lillian Bean in 1894 and they had eight children. He died in 1958 in Eugene Oregon.
Three of Clifford's children have descendants that have tested with Ancestry and have connected themselves to an Ancestry Tree—Harriet, Arthur, and Delilah.
Analysis
Harriet Irene Brown (1896-1981) – 3 matches.
"LP[i]" is a 3rd cousin who shares 27 cM of DNA across 3 segments. I have been in contact with "LP" previously.
"QP" and "AP" are descendants of a previously unknown son of Harriet. They are father & son and both share 36 cM of DNA across 3 segments with me.
Arthur A. Brown (1902-1978) – 2 matches.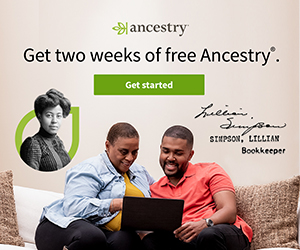 "JB1" is a grandson of Arthur A. Brown and a here-to-fore unknown 3rd cousin. I had his father in my records but not him. He and I share 124 cM of DNA across 5 segments, quite a bit for 3rd cousins.
"JB2" is a great-granddaughter of Arthur A. Brown. I had her father's basic information before and was able to add "JB2" to my tree. She and I share only 16 cM of DNA across 2 segments, just a little less than I would expect of a 3rd cousin, once removed.
Delilah Pearl Brown (1910-1995) – 2 matches.
"MR" is a granddaughter of Delilah Pearl Brown, thus we are 3rd cousins. We share 19 cM of DNA on 2 segments. She has 15 sources for her information on Clifford G. Brown, several of which I did not have. So, I have added her sources as hints of documents for me to look at carefully and incorporate as appropriate.
"AG" is another granddaughter of Delilah Pearl Brown, thus another 3rd cousin. We share 30 cM of DNA on 2 segments. A review of her on-line tree did not reveal any new information except for "AG"s name.
Conclusion
Thanks to ThruLines, I've been able to add 8 new second and third cousins, which broadened my tree. I've also learned many new, trusted, facts about my ancestors' lives. Finally, I have received 14 source hints to review, that will add texture to my understanding of the Brown line. That makes for a good day.
Afterword
If you are a descendant of Clifford Gerome Brown, please consider testing with Ancestry DNA; it is an excellent genealogical resource and can help you broaden your tree too. If you have tested with Ancestry, but haven't linked yourself to an Ancestry tree, please do so. I'd love to learn how we are related.
All of my ThruLines posts are listed under the ThruLines Thursday category.
---
Disclaimer
The ads and some of the links on this website are "affiliate links." If you purchase after clicking on them, I will receive a small commission which will help me pay for this site. Please see my Disclaimer Page for more information.
[i] Note: Anyone who is living or is presumed to be living has their name either omitted or reduced to initials.  If you believe you are the person suggested and would like me to use your full name, let me know and I'll update the article.