ThruLines Thursday
Roberts-Barnes-Lister-Evans
DNA
In Part 7 of my ThruLinestm analysis, I'm looking closely at matches with my 2nd great-grandparents, Nimrod Lister and Malinda Evans. To the best of my knowledge, Nimrod and Malinda had 9 children together.  ThruLinestm indicated that descendants of two of Nimrod and Malinda's children have tested with Ancestry DNA and have trees on Ancestry. First Marada Alice Lister, my great-grandmother. I looked at those descendants in my initial ThruLinestm posting. The other child with descendants in ThruLines is William L. Lister and there are six DNA Matches among those individuals.
My records indicated that William Lemuel and Laura May (Robertson) Lister had 12 children. I know that two of the twelve died very young. I have names for the other 10 and birth and death years for four of them. Three of those 10 appear to have descendants in ThruLines.
Jesse Carl Lister (1897-1959) – The oldest child. I know nothing of his wife or children.  ThruLinestm indicates there four DNA matches, all through his daughter Martha Sue Lister (1927-1982).  Three of them would be third cousins and one a third cousin, once removed.  According to DNAPainter, I should expect a third cousin to share between 0 and 217cM of DNA with an average of 74.
?G, JG, KG, share 23, 15, & 17cM respectively and the 3C1R shares 35cM with me, so the DNA Shared is within the expected range. Information regarding Martha Sue Lister is well documented and well sources, so I accept "?G's" entries for her mother, aunts, uncles, and siblings and have incorporated them into my tree for 8 new cousins added.
Alta Juanita Lister (1910-1959) – The seventh child of William and Laura Lister. ThruLines indicates there is one DNA match via Alta. "EP" would be another 3rd cousin and shares 70cM of DNA with me—a bit more than the expected amount.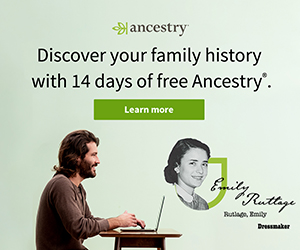 My records indicated that Alta was born c. 1910, married an "unknown" Perry and died c. 1959.
Cousin EP's agrees with my data regarding Alta and provides exact dates of birth, marriage, and death. It is documented with 11 sources, so I feel comfortable accepting EP's info regarding his parents and grandmother, Alta. So, I was able to add 7 more cousins (primarily aunts, uncles, and siblings of EP) to my tree thanks to my DNA Match with EP and ThruLines.
Mary Gertrude Lister (____ – ____ )—the third child of William & Laura Lister. I did not have her birthdate but I did believe her husband's surname was Maier.  Ancestry is indicating that CK and I are 3rd cousins 2x removed, sharing45 cM of DNA across 3 segments. That is slightly above the average of 35 cM expected and well within the range of 0-116 that is expected.
CK does not have a viable tree to evaluate. The pedigree suggested by Ancestry indicates that Mary Gertrude Lister married four times, Ralph Dewey Miller, Rexford Vance, Valentine E. Maier, and "Trego." Because of a lack of documentation linking CK and Mary Gertrude Lister, I am uncomfortable accepting the Ancestry proposed relationship. As such, I will contact CK and see if he has a tree someplace else.
Conclusion
It was a good morning. I was able to add 15 new cousins to my three that I feel comfortable are related.
If you are a descendant of Nimrod and Malinda (Evans) Lister. please consider testing with Ancestry DNA; it is an excellent genealogical resource and can help you broaden your tree too. I'd love to learn how we are related.
All of my ThruLinestm posts are listed under my ThruLines Thursday category.
---
---
Disclaimer
The ads and some of the links on this website are "affiliate links." If you purchase after clicking on them, I will receive a small commission which will help me pay for this site. Please see my Disclaimer Page for more information.