ThruLines Thursday
Roberts, Scott
DNA
In Part 5 of my ThruLinestm analysis, I'm looking closely at matches with my 2nd great-grandfather, Samuel Vaden Scott.
UPDATE 25 Jul 2019
Note: A look at Samuel Vaden Scot's wife, Amanda Jane Haley, show no additional individuals with shared DNA.
Original Post
I was surprised that ThruLines only had one match as a descendant of Samuel Vaden Scott. Samuel had nine children, four with Amanda Jane Haley and five with Lavina Allmend. So, I would have thought there might be more matches. Anyway, Samuel and Amanda had four girls, Clara, Clora, Florence, and Laura. Clora was my great-grandmother and Clara was my match's great-grandmother, making us 3rd cousins.
DNA Painter's Shared cM Project 3.0 tool v4 indicates that 3rd cousins should share between 0 and 217cM of DNA with an average being 74cM. The ThruLines match (I'll call RC) and I share 63cM over 4 segments. So, the proposed relationship fits the amount of DNA shared.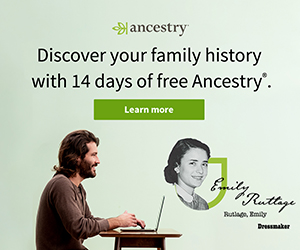 My records for Samuel match RC's records in birth, marriage, and death.
My records for Clora's sister Clara included the same birth and marriage data. Although I did not have a death record for Clara, I feel confident that the relationship is correct.
According to RC, Clara had eight children. In my records, I had the names of four of Clara's children and my four were in agreement with R.C.'s. Then, I noticed that two of Clara's eight children were born before Clara. R.C. doesn't maintain her test or tree, so I messaged R.C.'s test manager and tree owner about the error. I also asked R.C.'s test manager about possible photos or other documents regarding Clara, her siblings, her parents or other ancestors that he or R.C. might have that are not online.
If you are a descendant of Samuel Vaden Scott (1863-1931), please consider testing with Ancestry DNA; it is an excellent genealogical resource and can help you broaden your tree too. I'd love to learn how we are related.
All of my ThruLines posts are listed under the ThruLines Thursday category.