ThruLines Thursday
Roberts, Marshall
DNA
In Part 4 of my ThruLinestm verification process, I'm looking closely at matches with my 2nd great-grandmother, Patience Anna Marshall Dean Roberts.
Patience married Asa Ellis Roberts in Jefferson County, Illinois on 25 August 1872. She had four children with him, Charles Wilson Roberts, Rosa Della Roberts, Florence Elizabeth Roberts, and my great-grandfather, Hugh Ellis Roberts.  I wrote about my ThruLines findings with that family in Part 3 of this series.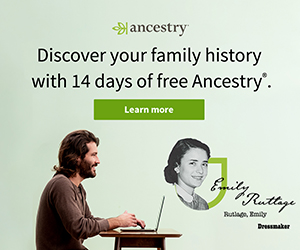 Before Patience married Asa, she was married to Thomas B. Dean. Thomas died in 1863, but Patience had at least one child with him[i]. Her name was Elnora Dean. My records included her birth, marriage, and death information but nothing about any children of hers.
ThruLines indicated there were four here-to-for unknown half-cousins, all descended from Elnora Dean, and have tested with Ancestry DNA.
Step one:  Does the shared DNA amount match expectations for the relationship?
Match 1 is a half 3rd cousin, 1x removed, with whom I share 79 cM
Match 2 is a half 3rd cousin, 2x removed, with whom I share 22cM
Match 3 is a half 3rd cousin with whom I share 60cM
Match 4 is a half 3rd cousin, 1x removed, with whom I share 17cM
According to the Shared cM Project 3.0 tool v4, all four of the individuals and I share expected amounts of DNA.
Step two: Do the cousin's common ancestor with me and match my known information about that common ancestor.
Yes. My records indicated that Patience had a daughter Elnora Dean and Elnora married Samuel H Pitchford on 11 Nov 1880 in Jefferson County, Illinois. All of the ThruLines matches are descended from Elnora and Samuel.
Using the ThruLinestm, I learned that Elnora and Samuel had seven children. Mary, Edward, Grace, Blanche, Florence, Edith, and Herbert.
Blanch married Homer H Roberts and had two children Theodora and Earl. Earl was the grandfather of one of my new cousins.
Edith married twice, once to Walton Pyles where she had several children. She married a second time; that marriage produced a son Eric Lemons. Eric was the father, grandfather, and great grandfather to the other three half-cousins in my ThruLinestm.
Thanks to ThruLinestm, I added 25 new half-cousins to my chart all descended from Patience Anna Marshall's daughter Elnora Dean.
Sadly, none of these cousins carry Patience's mtDNA. However, hopefully adding several generations of Patience's descendants will yield, in the future, new cousins, some of whom will carry Patience's mtDNA.
If you are a descendant of Patience Anna Marshall, consider testing with Ancestry DNA; it is an excellent genealogical resource and can help you broaden your tree too.
---
---
Endnotes
[i] The 1900 Census for Patience Anna Roberts indicates that she had six children, five of whom were living. It is unclear if the one child that had died was a child with her first husband, Thomas Dean, or her second husband, Asa Ellis Roberts. In either event, it does not appear that the child lived to have children.